Q: What is a Champagne & Canvas class like?
A: In a relaxed, social, group setting, an artist will guide you through replicating the featured painting step-by-step while listening to cool and groovy music. Whether you are an aspiring Van Gogh, Picasso or just looking to explore your creative side, you are sure to go home with a painting that is uniquely yours. By the end of the evening you will be amazed at the artwork you have created! We suggest arriving at 15 to 20 minutes early. The Boathouse on the Bay classes are held in the Regatta private room overlooking Alamitos Bay. Their Happy Hour is from 2PM - 6PM. All Classes are approximately 3 hours.
Q: What is the price of a Champagne & Canvas class? 
A: Our classes held at The Boathouse on the Bay are $40 and does not include food or beverage.
Q: Can I bring my own wine?
A: Sorry, no outside alcoholic beverages or food are allowed at The Boathouse.
Q: What is the advantage to paying on-line thru PayPal?

A: Your spot will be reserved immediately.
Q: Do I need a PayPal account to pay for my event?

A: No, once you have clicked the Pay Now button on the Sign Up page, please look on the PayPal page and enter in your payment information instead of logging in. You can also write a check.
Q: What time should I arrive?
A: You need to arrive at least 15 - 20 minutes early to get settled in with your drinks and appetizers
and mingle with friends.  The class will begin promptly as time indicated on your reservation.
Q: What should I wear to the painting class?
A: Wear something comfortable enough to paint in and something you do not mind getting a little paint on!  We provide aprons for everyone to wear while they paint but the paint will NOT
come out of clothing once it dries. Please leave your designer handbags and shoes at home... paint splashes and drips!
.Q: Will I really be able to paint this painting in the time allowed?
What if I have never painted before?
A: We have created the Champagne & Canvas experience for people without any painting experience! Your painting will be completed and dry in the allotted time. Remember, this is
meant to be a FUN experience!
Q: What is the painting 'drying time'? 
A: Acrylic paints dry fairly quickly. It will be dry to the touch after about 1/2 hour but will continue to dry thoroughly for the next several days.
Q: How do I transport my painting? 
A: After it's dry to the touch, you can carefully handle it and transport it face up in your car trunk.
Q: Do I need a reservation?
A: Yes, you need to have a reservation ahead of time Always try to call, email or sign up online to reserve your spot so that we can be fully prepared with setting up and tracing as well.
Q: What is your cancellation policy?
A: Cancellations must be made at a minimum 24 hours in advance of your scheduled class. If you do not show up for class or cancel within 24 hours, we will hold onto your credit and it MUST be redeemed within 90 days. 
Q: Do we have private group classes?
A: YES! Champagne & Canvas is perfect for such things as birthday parties, showers, girls' night out, corporate events, family reunions, etc. Minimum of 10 please.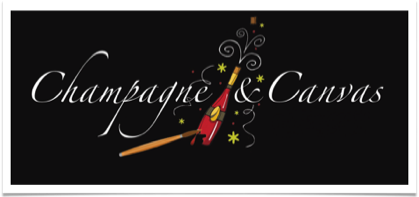 The Newest Art Buzz in Town!